Jurmala Spas and Sanatoriums
Healthy holidays in Latvia's famous beach resort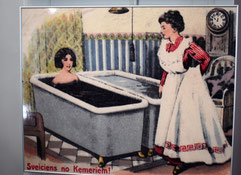 While seaside resorts are places to party in the sun, you can also head to the beach to get healthy instead of hungover. Indeed, Jurmala got on the tourism map by soothing people's aches and pains.
In the early 19th century, scientists discovered healing properties in the mud and pungent sulphur springs at Ķemeri. Russian officers wounded fighting Napoleon were soon finding relief there. A little later, Marienbade Sanatorium (whose derelict building can still be seen from the beach at Dubulti) began prescribing seawater baths and pine-scented forest walks to convalescents.
The patrons came from Riga by carriages and riverboats on the Lielupe. Then with the opening of railways Jurmala became a fashionable destination for the Moscow and St. Petersburg gentry.
The tradition continues today, as a wide variety of procedures are available in the resort. Fancy a freezing crio-sauna to give your skin a lift? Or a barefoot walk on sea stones to boost your immunity? Jurmala has the cure for you!
mud, glorious mud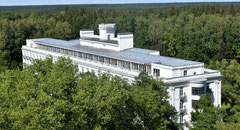 Ķemeri reached the apex of its fame in the 1930s, with the opening of a magnificent hotel dubbed the "White Ship." Its mud baths and sulphur springs were a hit with wealthy Western Europeans, and during the Soviet era it remained a respected medical establishment.
Sadly, a botched privatisation in the 1990s closed the hotel. But after decades of neglect, hope is in the air (heavily laden with the rotten egg aroma of sulphur.) The building's façade has been renovated, and the magnificent surrounding park has been restored. Climb the brick water tower for spectacular views of the surrounding forests and the sea.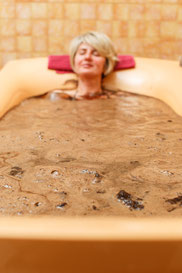 If you want treatment, head up the road to Jaunķemeri Rehabilitation Centre. Founded in 1967, the furnishings and equipment are still distinctly... Soviet. But rather than being a drawback, it adds a strange charm to the place. And the pine-forested grounds just 300 metres from the beach are beautiful.
A mostly Latvian clientele checks in to get better from heart conditions, rheumatism, diabetes and other complaints. After consulting with a doctor, the patients undergo a regimen of baths of Ķemeri mud, and three types of sulphur water tapped from springs on the property. Bromide water is strictly for external use, but you can happily sip the sodium chloride and sulphur hydroxide tumbling from a cascade in the lobby.
pampering time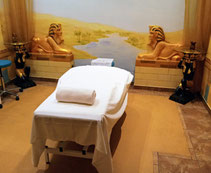 Back in the centre of Jurmala, the former Soviet sanatoriums have embraced capitalism with gusto. None more so than Baltic Beach Hotel in Majori, which tempts its largely Russian-speaking guests with a sparkling array of wellness, beauty and relaxation facilities.
Pop into an ozone capsule to recover from jetlag. Explore six different types of saunas. Savour a Thai, Chinese or Egyptian massage, then doss on sunbeds on a terrace overlooking the beach. Or do some laps in the luscious indoor seawater pool.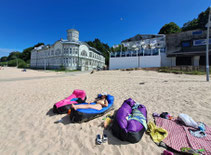 This is a reconnection with history, because the charming timber bathing pavilion next to the hotel provided seawater baths in the early 20th century. It's currently up for sale - maybe a new owner will turn the taps back on?
business meets pleasure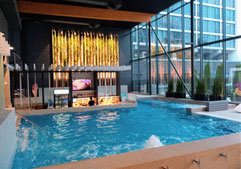 The colour scheme inside Hotel Jurmala Spa may be Nordicly cool, but you get a warm welcome. 
Also located in Majori, this is Jurmala's biggest conference centre. Happily, guests can escape from the PowerPoint presentations in a multitude of saunas, Jacuzzis and pools in the Wellness Oasis. Indulge in unique spa rituals with amber, linden blossoms and cherries, or bond with your beloved with a dual massage. Or undo the ravages of time with some facial oxygen therapy.
And after nurturing your body, give your eyes a treat with the magnificent views from the 11th floor Seaside Bar.
wooden wonder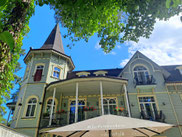 Set inside a magnificent timber Art Nouveau building, and a lookalike annex built a few years ago, Pegasa Pils Hotel in Dzintari evokes good vibes just from looking at it. And there's a cosy spa centre to get an inner glow.
A spell in the salt room can do wonders for your respiratory and nervous systems. There's a healer on site who works with female energies. And rent Nordic walking poles to make the most of beach walks.
Even better if you combine your cure with some music at Dzintari Concert Hall just across the road. And if you can then retire to the luxury suite in the hotel tower, you'll feel on top of the world.
Map of jurmala spas and sanatoriums
---
check out these exciting tours in latvia!
---