Public Toilets in Riga
Where do you go when you need to go in Riga?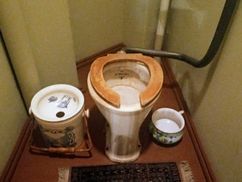 A historic water closet proudly displayed in Riga's Art Nouveau Museum marks a landmark in human cleanliness and comfort. Introduced at the dawn of the 20th century, it meant no more long trips to the outhouse or messing with bedpans, initially for the wealthy but eventually for all.
Today, pretty much every Latvian home has this remarkable yet underappreciated technology. But things can get a bit tricky if nature calls when you're out and about. There aren't enough public toilets. And those that exist are so poorly signposted even locals barely know where to find them in an emergency.
So, we've created this list and map of public WCs in the part of the city travellers most frequent. So take a seat and find relief!
bog geography - central riga PUBLIC TOILETs map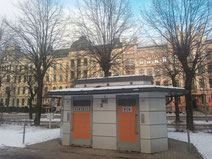 Installed in the early 2010s, the orange-grey blocks in the picture are the standard municipal conveniences in Riga. Unfortunately, despite an easy-clean, stainless steel interior, they are grubby.
Still, much better than nothing. There's a pod of ten hidden behind the Riga Technical University at the start of Jauniela, a 2 minute walk from the House of Blackheads.  Other units are located at the north-east corner of Vērmanes dārzs Park, the south-west corner of Esplanāde Park behind the statue of Rainis, next to the "13. janvāra iela" stop for the bus to the airport, and in Kronvalda Park on the corner of Elizabetes and Strēlnieku (in the Art Nouveau district).
There are different (cleaner) varieties to explore on Līvu laukums next to the Cat House (open 8:00-00:30), on the southern edge of Bastejkalns Park (open 8:00-20:00), and a pay toilet down the stairs next to the Laima Clock.
The bus and train stations and Central Market have reasonably clean pay toilets staffed by grannies who have possibly been there since the Brezhnev era. Happily, these days there are rolls of paper in the cubicles instead of customers being issued a "ration" of two sheets by the babushkas.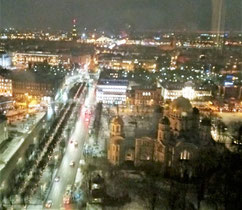 There are free toilets in the Galerija Centrs, Galerija Riga and Stockman shopping centres. Their locations on the top floors of the malls is inconsiderate. On the other hand, you won't regret travelling to the Skyline Bar on the 26th floor of the Hotel Latvija for spectacular views of the city from the restrooms.
Otherwise, restaurants and museums have facilities for customers, and if you ask nicely most let outsiders use them in times of need. Though some businesses require you to make a purchase first (glaring at you, McDonald's.)
---
check out these Exciting Tours in latvia!
---